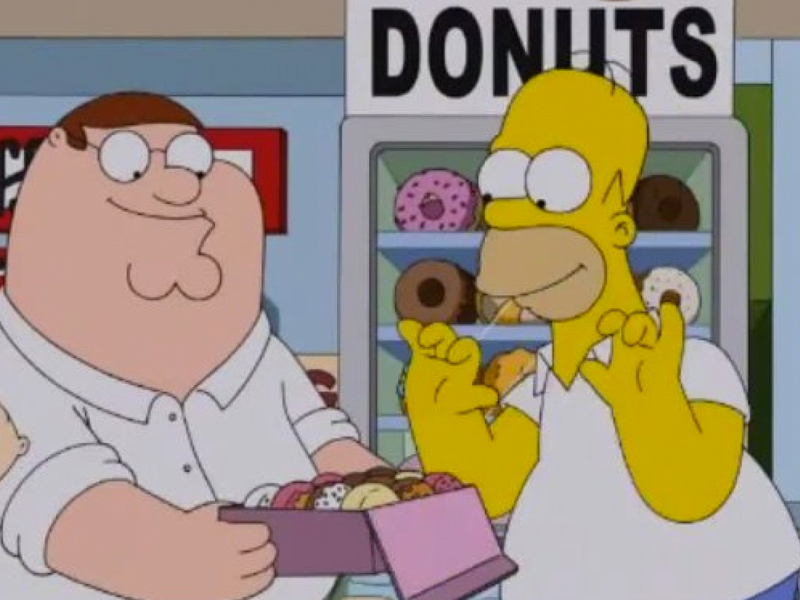 A crossover episode between The Simpsons and Family Guy is something that we've talked about and imagined many times over the years, but never thought that we'd see the day that it would actually happen. At this year's Comic-Con, the epic episode titled "The Simpsons Guy" was sampled, and based off of the segments that they showed, we already love it.
There are tons of small visual differences that we've noticed between The Simpsons and Family Guy throughout the years (not only in art, but animation as well) and we've always wondered how the two shows would look when put together. The blending was done very well! Everything looks and feels authentic. While it was very distracting to see at first, our brains eventually accepted the concept of Peter Griffin standing next to Homer Simpson. We also wondered how they would write an episode like this. They seem to have done an awesome job of blending the different comedic styles of The Simpsons and Family Guy together. However, while you can definitely taste the flavor from both shows, Family Guy's style of comedy stands out.
These are just our first impressions based off of what we've seen in the sample. There's no telling what our thoughts may be once we see the full episode, but either way, we are super excited about this! The crossover episode is set to air on September 28, 2014.